A description of the options in the navigation menu seen when logged into eniture.com.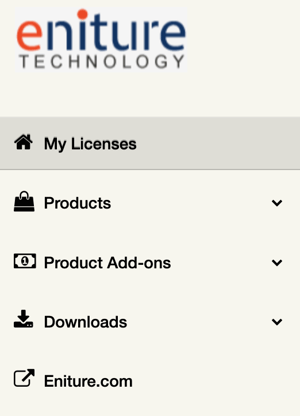 My Licenses
Displays a list of the app/plugin/extensions associated with your username/email address. The Edit link in the right-hand margin of this page will allow you to update the registered URL for the plugin or update the URL for your staging site.
If you need to change your payment method click on the View plans and plan details link at the bottom of the page.
Products
Will display a page rendering all of the Eniture Technology products available for you eCommerce platform. Click on the product badge that aligns with you interest.
Product Add-ons
There are add-on plugins that Eniture Technology publishes that extend the functionality of other plugins. The most popular of these are:
Residential Address Detection
Standard Box Sizes
Install the add-on plugin if you are interested in the functionality and follow the User Guide to set it up.
Downloads
This link will list the plugins/extensions associated with your username. Click on the Download Code option to retrieve the installation file. Click on the View Documtation link to view the relevant instructions.
Eniture.com
Click on this entry to return to the eniture.com home page.