How to get a FreightDesk Online user access to the discounted rates offered by ShipEngine Carriers
A FreightDesk Online user requests a ShipEngine Carriers account by submitting a form on FreightDesk Online. The user can see information about ShipEngine Carriers, access the form, and view instructions by navigating to Settings > ShipEngine Carriers.
Once the form is submitted, a support ticket is created in Eniture's HubSpot Support Desk. The content of the ticket will be similar to: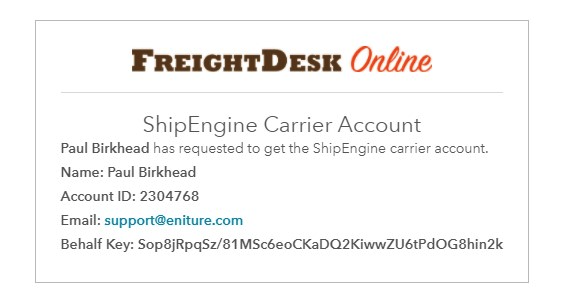 Perform the following steps to create a ShipEngine Carriers account for the user:
Step 1
Go to the ShipEngine Support portal:
https://www.shipengine.com/support/
Step 2
Click on the bubble located at the bottom right corner of the webpage for "Help" or "Chat. What you see will depend on the availability of the chat resources. "Help" will be a form. "Chat" will be live chat.
Step 3
Convey that you are a "ShipEngine Partner" and that you need to have a ShipEngine login created for a customer of yours. Then provide the following information which is documented in the support ticket:
Behalf Key (which identifies Eniture Technology)
Account ID (the ShipEngine account ID for the FreightDesk Online user making the request)
Name (of the FreightDesk Online user making the request)
Email address (of the FreightDesk Online user making the request)
Step 4
If you are using live chat, the representative will give you a username and password during the session.
If you aren't using live chat and you complete the "Help" form instead, ShipEngine states that they will respond in one business day. However, their support staff works business days 9AM to 5PM Central Time and often clear tickets in the queue within 2 hours.
Step 5
Once you're in possession of the ShipEngine username and password for the FreightDesk Online user, send an email from the support ticket to convey the information. The user should be directed to log in to FreightDesk Online, navigate to Settings > ShipEngine Carriers, and follow the steps to set up billing for ShipEngine Carriers.