Instructions for Shopify merchants on how to change the subscription plan for the LTL Freight Quotes app or the Small Package Quotes app.
Follow these steps if you're a Shopify merchant using Eniture Technology's LTL Freight Quotes app or Small Package Quotes app and need to change your subscription plan. You must be logged in to Shopify with the Store Owner credentials to perform these steps.
Step 1 - Access the App Preferences
In the Shopify Admin navigation menu, click on Apps. Locate the app that you want to change the subscription plan for and click on the app's name.
Step 2 - Select the Desired Plan
The "Plans" page will be displayed once the app preferences page loads.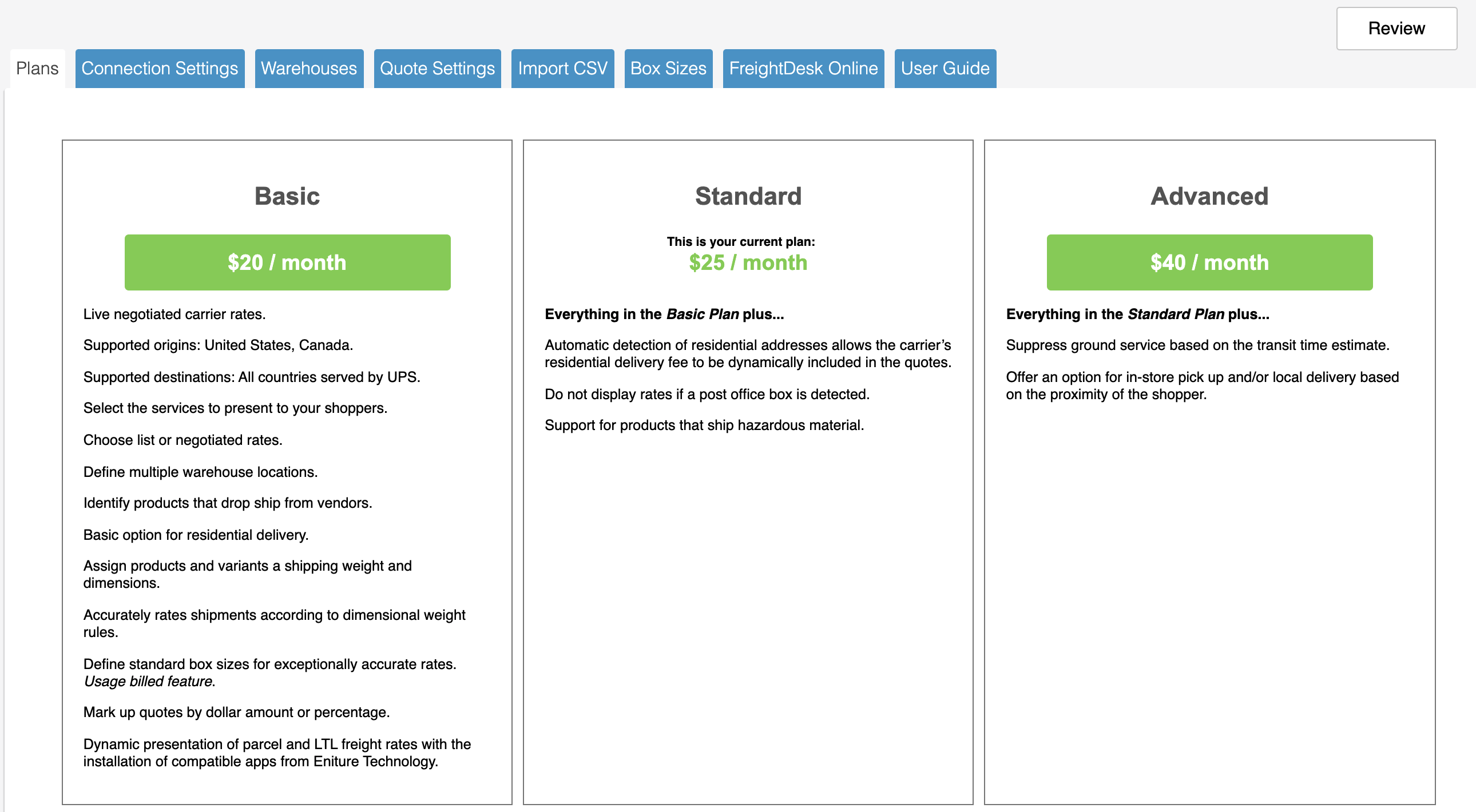 The plan you're currently using will have the words "This is your current plan" above the monthly subscription rate. To change the plan, click on the green button encasing the monthly subscription rate of the plan you want to change to.
Note: The features available for each plan may not be completely represented on this page. Refer to the app's product listing page on eniture.com to see a more comprehensive list of features by plan.
Step 3 - Approve the Changes to Permissions and Charges
Shopify's wizard will prompt you to approve any changes to the permissions required by the app to perform its functions and the changes to the monthly subscription rate. Accept all changes. After the wizard is finished stepping you through its steps, your active subscription plan will be the one you selected.
What Happens to the Money Collected for the Previous Subscription?
Shopify performs all of the billing for all third-party apps installed on your store. Shopify will provide a prorated credit for your previous subscription and charge a prorated amount for the newly selected subscription. These will appear on your monthly Shopify invoice. Contact Shopify if you have questions about how the prorated amounts were applied to your invoice.