Offering Hold At Terminal Service as an option during checkout can reduce costs and increase convenience.
LTL freight shipments sent with Hold At Terminal service are held at the destination terminal for the receiver to pick up. It can be a more convenient option for installation crews and others traveling to a job site. And it's hundreds of dollars cheaper than having the LTL carrier deliver to a residential address. So how do you offer it as an option to your online shoppers?
Some of Eniture Technology's LTL Freight Quote apps will allow you to offer Hold At Terminal as an option during checkout. The feature is available on the Advanced Plan for the apps that support it.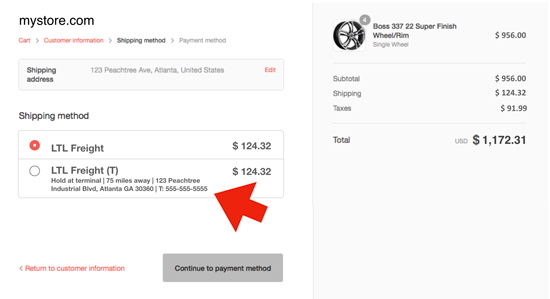 When you enable the feature, your shopper will see:
The distance between their address and the address of the terminal.
The terminal's address.
The terminal's phone number.
Storage fees will be charged if a shipment remains at the destination terminal too long. Before offering Hold At Terminal service, make sure you know when your LTL carrier begins charging for storage. Find out if storage fees will be billed to your account, or if the receiver will need to pay them when picking up the shipment.
The procedure for sending and picking up a shipment with Hold At Terminal service differs by carrier. So too does the cost. Some carriers offer the service at no additional cost, while others charge for it. You can checkout our blog post, A Comparison of LTL Freight Additional Service Fees, for an overview of Hold At Terminal service for several carriers. However, don't rely on the article as a substitute for getting the details directly from your LTL carrier.
LTL Freight Quote Apps With Hold At Terminal
(Last updated September 21, 2020)
ABF LTL Freight Quotes (Shopify & Woocommerce)
Day & Ross LTL Freight Quotes (Shopify) The feature is only available for destination terminals located in the United States.
FedEx LTL Freight Quotes (Shopify, Magento 2 & Woocommerce)
R+L LTL Freight Quotes (Woocommerce)
SAIA LTL Freight Quotes (Woocommerce)
Worldwide Express LTL Freight Quotes* (Woocommerce)
XPO LTL Freight Quotes (Shopify & Woocommerce)
* The Worldwide Express version allows merchants to offer an option for Hold At Terminal, but it will not display the destination terminal information.