Eniture Technology publishes a number of shipping-related software solutions. This post provides an overview of how they all fit in.
On the surface, shipping appears to be pretty simple. However, if you open an e-commerce store you'll quickly discover that is far from the truth. Fortunately, the experts at Eniture Technology have decades of shipping experience with a variety of transportation modes that can help e-commerce merchants navigate the complexity of shipping.
Categorizing Eniture's Product Offerings
Eniture Technologies shipping related product offerings (we also offer other types of solutions) fall into three general categories:
Software that is installed on e-commerce sites that provide shipping quotes to site visitors. When these products are installed the cost of shipping is captured with the order.
A multi-carrier cloud-based shipping solution named FreightDesk Online. FreightDesk Online will connect to your e-commerce store to make the process of shipping as easy and time-efficient as possible. It can also be used as a stand-alone shipping platform.
Add-on software that expands the accuracy of Eniture Technology's shipping quote software or FreightDesk Online.
A Basic Illustration And Explanation Of The Eniture Framework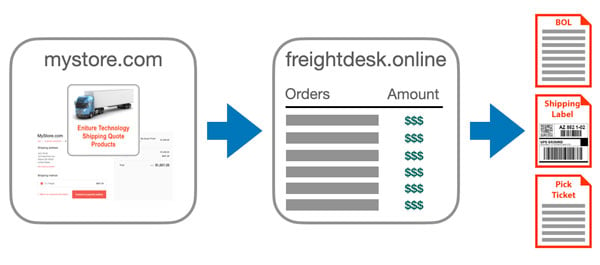 Quoting Software
When our quoting software is installed on your e-commerce store, it will provide shipping quotes to your site visitors. Eniture Technology's quoting software products simply provide shipping quotes during the checkout process so that the cost of shipping is captured on the order. These products will not create a shipping label or book a shipment with a carrier.
Depending on which of the quoting software solutions are installed, you can provide your website visitors with quotes for postal services, parcel services, LTL freight, truckload freight, and white-glove delivery services.
Not all e-commerce platforms have the ability to use apps from 3rd party developers that provide shipping quotes. The e-commerce platforms that do are:
BigCommerce
Magento
Prestashop
Shopify
WordPress/WooCommerce
Ninety-five percent of all e-commerce stores are on one of these platforms.
FreightDesk Online
After an order is placed on your online store, you need to ship it. There are several ways that this can be accomplished:
FreightDesk Online.
You can connect your online stores to FreightDesk Online and automatically have your orders available for processing. FreightDesk Online will retrieve as much order data as possible to minimize the amount of data entry required to create Bills Of Lading (BOLs) for LTL and truckload freight, shipping labels for parcel carriers like FedEx and UPS, postage for orders that will ship via the US postal service, and other types of documents that are important to fulfillment operations.

If you're also using Eniture Technology's quoting apps, the data used to generate the shipping rate for the order is also retrieved. This gets FreightDesk Online users closer to "click-and-ship" capability than any other solution.
Other Cloud-based Shipping Platforms
In addition to FreightDesk Online, there are other cloud-based shipping platforms that can connect to your online store. However, these alternatives are limited to postal and parcel services. The most well-known of these is ShipStation. ShipStation has been around for a while and has some great features. It is worthy of your consideration if your shipping needs are limited to postal and parcel services.
In-app Label Printing
Some e-commerce platforms have native integrations that will allow for shipping labels to be printed for postal services, FedEx, UPS, and possibly DHL. For some e-commerce platforms, there are also third-party apps available that will provide similar functionality. These solutions are very basic, and usually don't adequately meet the needs of most e-commerce merchants.

Another disadvantage to this method is user access. The person responsible for creating shipping labels will need access to the e-commerce store and sufficient login permissions to access the required areas. This can expose sensitive information or provide a user with insufficient skills an opportunity to mistakenly delete or corrupt orders and data.
Carrier Websites
You can always log in to a carrier's website and enter the data required to generate a shipping label (or BOL) and schedule a pickup. While carrier websites are free (the carrier is making money on the shipment), none will connect to your online store and automate the processing of orders.

If you choose to use a carrier's website, you'll need to key in the data related to each order, including the ship-to address. This manual process is ripe for errors in the data entry required to generate the shipping documents can cost hundreds of dollars, not to mention the payroll needed to pay for the data entry. If you have more than two or three shipping labels or BOLs to print out per day, you'll be better served by using a cloud-based shipping platform.
Phone It In
Although "phoning it in" is not "a thing" for postal and parcel services these days, it is not unheard of for LTL freight and truckload freight. While it may appeal to certain individuals, it has more opportunity for errors than any other method. The carrier's representative will have to key the shipment information into the carrier's systems while relying on what they think they're hearing over the phone.
Add-on Software
Depending on the e-commerce platform you're using, the ability to extend the feature set of Eniture's quoting software products may be accomplished by enabling features within the software (Shopify) or by installing add-on plugins (BigCommerce, Magento, Prestashop, WooCommerce). Below is a brief description of the most popular shipping related add-on software solutions Eniture Technology offers:
Pallet Packing
The Pallet Packing add-on allows merchants to identify the pallet sizes in use. During the checkout process, the add-on builds the pallet(s) and passes the length, width, and height to the LTL freight provider. This add-on is a must-have for merchants that have a tariff with their LTL freight provider that requires their freight to be dimensionally rated instead of using the traditional Freight Class/NMFC method overseen by the National Motor Freight Traffic Association (nmfta.org).
If a merchant's LTL freight tariff uses the traditional Freight Class/NMFC method overseen by the National Motor Freight Traffic Association, this add-on is usually not required. However, when in use the packaging solution is passed through to FreightDesk Online and improves the ability for the merchant to "click-and-ship" when processing orders.
Residential Address Detection (RAD)
The Residential Address Detection (RAD) looks up the address type of the ship-to address provided by your website visitors during the checkout process. The shipping provider is notified of the address type when real-time shipping quotes are requested so that fees related to residential address delivery are included in the shipping quotes.
When RAD is used with quoting software for an LTL freight provider, additional options for liftgate delivery service are available when the ship-to address is a residential address.
RAD can also be used to prevent shipping quotes from being presented during the checkout process if the ship-to address is a post office box.
Standard Box Sizes (SBS)
Standard Box Sizes (SBS) is used by the postal and parcel quoting products. It allows merchants to identify the sizes of boxes they inventory for shipping purposes. During the checkout process, SBS identifies the ideal box for the contents of the Cart, and that information is passed along to the postal or parcel provider. This results in the most accurate rate estimates possible.
SBS is required to take advantage of FedEx One Rate, UPS Simple Rate, and USPS Flat Rate services that are available in each of the respective integrations.
The packaging solution determined by Standard Box Sizes is passed through to FreightDesk Online and allows the merchant to "click-and-ship" when processing orders that will ship with postal and parcel providers.
Validate-Addresses.com
Validate-Addresses.com is a stand-alone platform that connects to e-commerce websites much like FreightDesk Online. It checks the validity of the ship-to address provided for the order. If the ship-to address can't be validated, it notifies the merchant and automates the address correction process with the customer. Unlike the other add-on solutions in this section, Validate-Addresses.com does not rely on the presence of any other solution from Eniture Technology.