Instructions for how to update the plugin license so it can be used on a different website.
Each license for one of Eniture Technology's Woocommerce plugins or Magento extensions can be activated for one live (a.k.a production) website and one staging (a.k.a. development) website. If there are additional websites you want to use the plugin for, you must purchase another license.
If you want to change the website your existing license is used for, follow these instructions:
Access Your Customer Dashboard
Go to eniture.com and click the Login link located at the top right-hand corner of the home page. Login using the email address and password you entered when you registered for the plugin. After you log in, the My Account link will replace the Login link in the navigation menu. Click on it to access the Dashboard for your account.

Edit Your License
Click on the My Licenses option in the navigation menu. Locate the plugin whose license you want to edit and click the Edit link.
Update Your Licensed Domain URL
In the Production Site field, enter the domain of the store that you want to use the license on. You can also enter the domain of your staging or development site in the Staging Site field.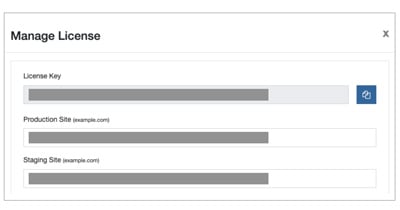 The plugin license is now associated with the new domain. The plugin will no longer function on the previously registered domain.